Apartments and houses in Rotterdam and The Hague: where to find real estate agents with experience?
International companies continue to expand, which is why more and more expats call the province of Zuid-Holland 'home.' But the minute you decide to cross borders, you're flooded with information. There's a ton of things you have to organize as an expat. The most important one is undoubtedly to find a house. But with a plethora of options — from expat rentals to brand-new apartments — it's difficult to see the forest for the trees. That is why you headed over to Google and entered 'real estate agency Rotterdam.' Yet, those millions of search results have left you confused. How to find a reliable, experienced real estate agency that can help you obtain your dream house in Rotterdam or The Hague?
To buy or to rent: what's the best option for expats?
First things first: before you go house hunting, you'll need to decide whether you want to rent or buy a place. As it's quite difficult to buy a house in Rotterdam or The Hague, it might seem better to rent an apartment. But that's a misconception.
Besides the fact that a property is generally a good investment, it's often cheaper to buy a home — especially for expats, as they're usually charged more rent. Moreover, this option will help you save money, since you'll pay off your debt over time. And compared to other large European cities, housing prices and interest rates are currently relatively low in Rotterdam and The Hague.
How can a real estate agency in Rotterdam or The Hague help you find your dream house?
As an expat, you probably don't want to go down the real estate road alone. Buying a home involves large sums of money, so you'll want to work with an expert who knows the ropes and has your best interest at heart. Why?
A real estate agent will provide you with thorough advice on the current housing market, resolutive conditions, local regulations, and property aspects. They'll also help you submit a competitive yet realistic offer.
But you have to find the right real estate agency in Rotterdam or The Hague. The experts you work with need to be experienced, but they should also listen to your demands. And you want them to go the extra mile for you.
Where to find real estate agents that understand and care about your needs? At @WORK Makelaardij!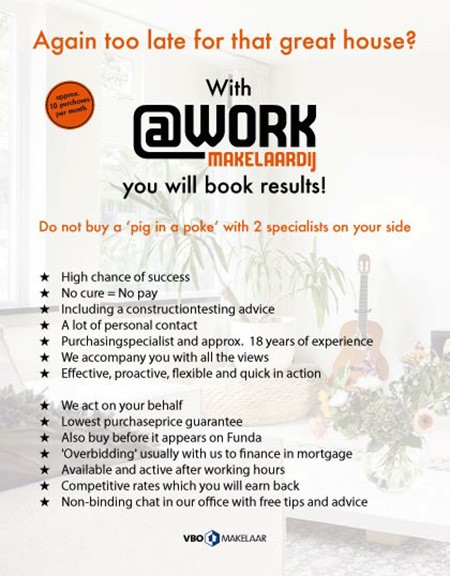 Why work with @WORK Makelaardij?
If you set out to buy a house, there's a myriad of aspects you need to consider. Are you looking for a real estate agency in Rotterdam or The Hague that can help you tackle all of them? Then @WORK Makelaardij will be a perfect fit.
The power of a solid network
Our three well-versed real estate agents know the region by heart and have spent many years building a solid network. As a client, you'll benefit from that — we have a stellar reputation and often know a seller's real estate agent, which is why we're more likely to close a deal.
Real estate agents with construction engineering knowledge
On top of that, we hold certificates in construction engineering, which means we're equipped to assess the property's state. If required, we can also help track asbestos and, in case it's found, estimate what it will cost to have it removed.
Our background in construction engineering is especially useful in the current housing market, which often requires you to act fast. Going through an official building inspection process usually takes up too much time — the house will likely be sold by the time it's completed. But buying a home without knowing the first thing about it isn't an option, either. If you work with @WORK Makelaardij, you'll get the best of both worlds: real estate expertise and a reliable assessment of your future property.
Flexible, customer-centered approach and A-to-Z help
If you're an expat looking to buy a house in Rotterdam or The Hague, you'll encounter lots of challenges. We're here to help you tackle them and answer your real estate questions — not just from 9 to 5, but also on weekends and evenings.
Our approach is centered around accommodating your needs. We understand that you're navigating unexplored territory. So if you need us to explain something two or three times, that's okay.
With our help, you'll smoothly complete the process of buying a home from A to Z. Need to visit the notary? Redo the house? Get a document translated? Understand the conditions of a contract? We'll provide you with the assistance you need. And of course, we thoroughly check your deed of sale.
Real estate agents who build long-term relationships
Our passion is to help customers in the best possible way. We aim to build long-term relationships: if you have any questions after you've bought a house, feel free to contact us.
Our high ratings show that we turn our words into actions. On top of that, approximately 90 percent of our customers return to us when they want to sell their house!
Certified real estate agency Rotterdam: VBO
Trade organization VBO (Vereniging Bemiddeling Onroerend Goed) represents the interests of real estate agents and appraisers. As a VBO real estate agency in Rotterdam, we have completed an all-round training. Every year, we take compulsory training courses to keep our knowledge up to date.
Consumentenbond
advieskeuze.nl