Buying an apartment in Rotterdam, The Hague or Utrecht with a real estate agent
Again too late to get your future home? With our purchase guidance you will book result for sure!
To be able to find a property in Rotterdam, The Hague or Utrecht can be difficult, even when you are not an expat it can be hard. But buying a property is a good investment and the costs are normally lower than renting a place. Especially for expats because they charge them more rent. You are also saving some money because you are paying off your debt. Housing prices are relatively low in Holland compared to other large European cities and interest rates are extremely low at the moment (2019), what makes this an attractive time to purchase a house for everybody. There is a lot of money involved and most people want to be sure that they have a real estate agent besides them who acts on their behalf.
A buying broker will give you thorough advice about the current housing market, resolutive conditions, building aspects, local regulations and how to submit a competitive, but realistic negotiating offer which will also be worth it. If you bid more than the value of the property, the banks will not give you the money. Buying an apartment in Rotterdam is a question a lot of expats ask themselves. In this city the prices will go up the most (and have gone so far), which makes buying there a very good investment for the coming years and even more attractive than in other cities.
Certified real estate company with the VBO
We are a VBO (vereniging bemiddeling onroerend goed) real estate office, the trade association for professionals and reliable brokers and appraisers. As a VBO broker we have completed an all-round training as a real estate agent. Every year, we have to take compulsory training courses to keep our knowledge up-to-date.
We are experts in the local market and know the actual property prices. We are familiar with all aspects of purchasing and selling as well as the legal points. We have access to an exclusive network database and we know about buildings, can value your new home and advise you on resolutive conditions which are necessary to be taken into the buying contract.
Can I finance everything by the bank or do I also need to invest myself?
There are several apartments and houses for sale in The Netherlands. You can normally buy a house as an expat (non-resident or resident) and you will (2022) be able to finance 100% of the purchase price by the banks. If the purchase price is more than the valuation price, you have to put the difference in value in yourself. A buying broker can advise you if the bid is equal to the value. If you are bidding on top of the asking price this is difficult to determine and the selling broking will also wonder if you know what you are doing and if you have extra money. You always have to pay the additional costs involved with the purchase yourself, even when you buy for the real value.
Before 2018 you could still finance some of these costs by banks. Normally the extra costs involved are about 6% of the purchase price, but this also depends on the buying price. Calculate with 2% tax of the buying price, notary costs around 1.500 euro, translator 500 euro, valuation costs 850 euro and Kadaster costs around 200 euro's, plus buying broker fees (in general around 1% ex VAT (with a minimum fee) and costs for the mortgage broker (between 2500 and 3500 euro).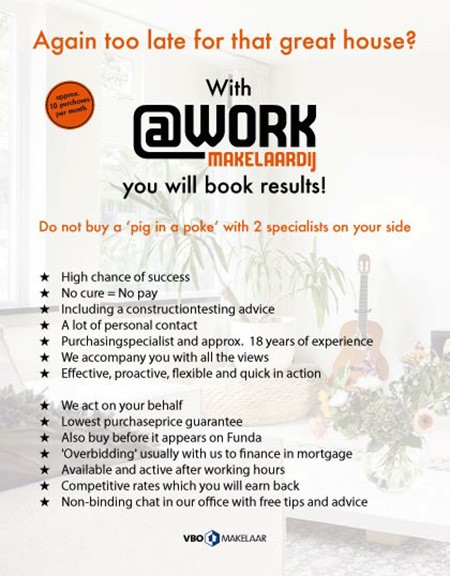 Finding your home - Apartment for sale
The most common way to find a house that matches your wishes is through the biggest website Funda.nl. This national housing website lets you search through a lot different characteristics: how many bedrooms, a garden or a balcony, price categories and much more specifications.
You'll also be able to create a Funda account and set up an alert, based on your wishes. You will be notified when properties you would maybe like to view come on the market. Be aware that houses that are sold will still be listed as available because the selling brokers will only put it on 'sold' when the mortgage is approved by the buyer (mostly after 6 weeks).
Use an Expat broker to act on your behalf
Using a buying broker for purchasing a property is very common in Holland at the moment. When you use the services of your own broker for your new home then this is called a purchase broker.
If you have your home sold by a broker then this is called a selling broker. When you are a foreigner or an expat, it is especially advisable to take a purchase broker because there are numerous of rules which you perhaps do not know about and the selling broker takes you much more serious. This is even more advisable when there are more people interested in the property. The buyer will pay the costs of the purchase broker, and the selling broker is paid by the seller of the house. A broker can act as a purchase broker on one occasion and a sales broker at another, but he may never act as the purchase and selling broker for the same property.
Freehold or leasehold
It is common to purchase a property in freehold or in Leasehold in Holland. If you are buying leasehold property you are paying a monthly fee (periodic tax deductible ) in the Netherlands. Sometimes these payments are bought off for a period of time, mostly 50 years. After this time you can buy it again, either for a longer period or start paying per month.
Freehold:
If you own the freehold property, this means that you also own the land it stands on. It is your name in the land registry as "freeholder", having the "title eigendom". Freehold is pretty much always the preferred option: you cannot really go wrong with this but in Holland also the leasehold is used many times.
More information
Leasehold:
Leasehold means that you have a lease from a freeholder (the landlord/mostly the government) to use the land for a number of years. The leases are usually long term – often 99 years, and the right to pay is often bought off for a long period of 50 or also 100 years. If this period stops, you start paying monthly or you can buy the right to use the land for an additional 50 years. It is rather costly to do so, in general you pay 17 times the amount you pay per year for a 50 years period. These cost are not deductible from the income tax. If the right ends, you can use the land. The landlords must, if he does not want to extend the right to use the land, pay the worth of the house which is standing on his land.
Benefits of @Work Makelaardij
VvE / The owner's association
In Holland almost every apartment building is managed by an owner's association, called a Vereniging van Eigenaren. If this VvE is not active (with saving and maintenance) it will be difficult to get the property mortgaged by a bank. Also, the VvE needs to save 0,5% of the rebuilding costs and they need to have a plan (MJOP) for maintenance during the coming years. If these documents are not in place, some banks will not mortgage the property or some banks ask for a technical building inspection report instead to find out the technical state.
The VvE is responsible for the general repairs and maintenance and may be well or poorly ruined, or even have gone into debts. Sometimes they already had a discussion to do big repairs in the future so then you will be paying a big amount yourself later. A buying broker can help you with sorting this out, for example by looking into the status of the previous meetings called the; 'Notulen'.
Required documents
The terms and conditions relating to the shared spaces will be explained in detail in the property deed and regulations (splitsingsakte en reglement), which should be included with your documentation from the selling broke.
You also want to get the owners deed (eigendomsbewijs) in where things are written what you can or cannot do with the property and for example what rights the neighbours would have (e.g. to go over your land). Ask all the documentation of the VvE and maybe there is something known about polluted ground, concrete rot or asbestos in the house. And is the information the selling broker is giving you the right and the total information?
We as a purchase agent also take a good look at for example local development plans, environmental aspects, relevant details in the Land Register, status and obligations of the Owners' Association, foundation aspect, municipal and provincial regulations, and presence of the energy label.
Deposit and mortgage
Your mortgage will be adjudicated after the sales contract is signed but all parties and all the documents (from your employer and the valuation report ) are uploaded in the system of the bank. The deposit of 10% will be paid by the bank, but you can also pay this yourself if you want to bring in your savings.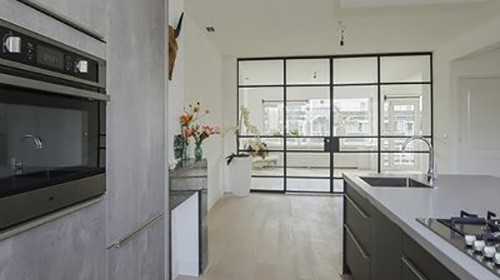 Doing a technical inspection with a real estate agent
After looking for an apartment in Rotterdam, The Hague or Utrecht and having the verbal agreement with the seller you maybe also want to do an inspection on the property. If you have found a house which you want to purchase you can sometimes negotiate on the asking price but many times nowadays you have to bid more than this asking price in order to get it.
Before doing a bid on a property, it is sometimes wise to do a structural or building survey or you can make the bid and do the technical inspection later. The negotiations are usually done through the buyer's and seller's estate agents. If you are doing a technical inspection before bidding this can work to your disadvantage. We are pleased to explain you why this is.
Did you know that it is the seller's duty to inform you about matters that could be important for you, such as defects, for example a damaged floor?
This does not apply to defects you or your buying broker can see themselves, for example a broken window or cracks in the walls. The seller is not obliged to point these out to buyers. He can also give only a little bit of information that seems harmless, but from then it is up to you to further inspect this. Mostly there is also no time for his inspection and he has other players who maybe not want to do this technical check, so this will be a disadvantage.
House prices and overbidding together with a Real Estate agency
Since the beginning of 2017 house prices are rising hard and prices are higher than before the crisis which started ten years ago. At the moment (2018) there is much demand for houses and it is very hard to buy a house yourself. This is because in average maybe 10 to 40 other (up to 100) people also want to purchase the same property. The asking price is a starting price on which you have to ad 5-20% on top. But if the asking price is already high you pay too much for the property and when it is too low you must bid more in order to get it. It is very important and difficult to bid the right amount because the bank will not give more mortgage than the real value. If you have own savings and you want to use this, then it is no problem. Without a buying broker you only find out later. A buying broker normally bids the real value. The selling broker probably also wants to know if you have the money bidding over the asking price as savings.
If you want to buy a certain property we will inform you about the best offer strategy on the basis of all the information we have collected for you. We will assist you with calculating a strategic opening offer. As a valuer we have a lot of experience in determining the correct value and seeing what the market value of comparable properties is. Once the bid has been accepted by the seller, the buyig party has a three-day 'cooling off' period. The bid process may also include conditions.
After the verbal agreement
We recommend, and it is also obligatory by the bank, that you take out a home insurance policy (opstalverzekering), which covers any damage to your house. Home insurance means that you are covered if your home is damaged by external factors, such as damage by fire, water, storm and lightning.
If you would also like to insure the contents of your home (furniture) against for example fire and theft, you will need to arrange a separate household insurance (inboedelverzekering). If you buy an apartment this opstalverzekering (extern) is mostly present for the whole building and is part of the monthly Vereniging van Eigenaren (VvE) attribution.
Most real estate agents show properties for sale during business hours on Monday to Friday, but some will be happy to help you during evening hours of maybe at 08.30 in the morning. Nowadays they are normally working with open houses, the first one to take a look yourself and the second one for your buying agent to take a look. We are also working after working hours as a buying broker for you.
You can find any property for sale here:
There are a lot of houses for sale in Rotterdam, The Hague or Utrecht on different websites. Most of them you will notice when you look on the following pages:
> Funda
> Jaap
> VBO
> @WORK Makelaardij
Meeting Up
If you want to have a private meeting we are more than happy to receive your call or email. We are happy to tell you more about the market and give you explanation about our approach. Our office in the center of Rotterdam, on the Coolsingel 6.
Let's have a cup of coffee
Consumentenbond
advieskeuze.nl